Three friends killed in A96 crash were returning from music club
Three friends killed in A96 crash were returning from music club
Three friends killed in A96 crash were returning from music club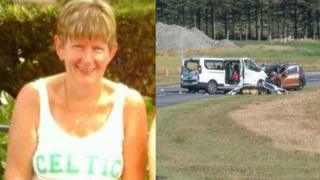 Three of the five people who were killed in a crash on the A96 in Moray on Thursday night have been named as members of a local country music club.
Evalyn Collie, 69, Ted Reid, 63, and Audrey Appleby, 70, were on their way home from a gathering of Elgin Country Music Club when the collision happened.
The club's president told BBC Scotland they will be "sadly missed by everyone" there.
Two others who d ied, including a four-year-old boy, were tourists from Italy.
The crash - involving a minibus and a 4x4 - happened on the A96 near the town of Keith just before midnight on Thursday.
One of the victims, Evalyn Collie, from Aberchirder, Aberdeenshire, has been described as a "lovely person".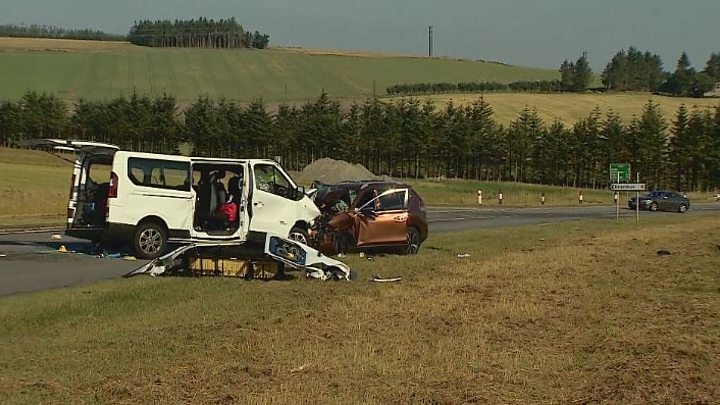 The friends had been travelling back from a country music night in Elgin when their Nissan X-Trail 4x4 was involved in a collision with a minibus carrying a group of Italian tourists.
The 39-year-old driver of the car was seriously injured and she is being treated at Dr Gray's Hospital in Elgin.
They regularly attended a country night, held once a fortnigh t by Elgin Country Music Club, and had been at a performance on the night of the crash.
'Very friendly'
The club's president Billy Main said: "They were just very nice people.
"They just came and enjoyed themselves, I couldn't say anything bad about them, they were just very friendly.
"They had been coming for a few years off and on.
"You just can't take it in, it's unbelievable really.
"It was a shock enough to hear about the crash and then you realise it's people you know just going home."
Variety of injuries
The male driver of the minibus, two adult passengers - a man and a woman - and a three-year-old boy were also taken to hospital with a "variety of injuries".
The woman is said to be in a critical condition at Aberdeen Royal Infirmary while the three-year-old suffered minor injuries.
The Italian Honorary Consulate in Aberdeen said it is sup porting the families of the Italian citizens caught up in the tragedy.
Officers investigating the cause of the collision have appealed for any witnesses or dashcam footage.
Source:
Google News Music