The humble kookaburra has captured the heart of a Hollywood legend
The humble kookaburra has captured the heart of a Hollywood legend
Advertisement
Loading
It may not top many people's list of favourite birds, but the humble kookaburra has won the heart of a Hollywood icon.
Screen legend Jane Fonda is in Australia to promote her latest film Book Club and make a series of special speaking engagements around the country.
And when reflecting on how she had been spending her brief moments of downtime, there was one thing that really captured her attention.
"I met a kookaburra," she said.
Advertisement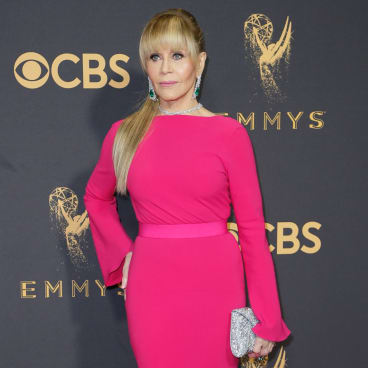 "You know, I came out to Australia in the '80s to visit a friend of mine and he has this gorgeous place outside of Sydney right in the middle of a eucalyptus forest, and I was lucky enough to stay there.
"I arrived at night and I had no idea where I was, so when I woke up in the morning surrounded by this beautiful forest, it was so lovely and then there were all these kookaburras laughing at me.
"I just l ove them."
She even knows the song that Australian school children have been learning for decades.
"Kookaburra sits in the old gum tree, merry merry king of the bush is he," she sang completely unprompted.
The kookaburra isn't the only Australian to impress the 80-year-old star. Her first speaking engagement is inside the hallowed halls of the Opera House.
"I have to admit to being a little cowed to be appearing at the Opera House," she said.
"That building is iconic. But just before I came here I watched Hannah Gadsby's brilliant Nanette, which is one of the most amazing one-woman shows I have ever seen, it is so profound and funny and unusual.
"If she can do that in the Opera House, I am sure I will be fine."
Book Club is Fonda's 49th film credit since her 1960 debut in Tall Story. It tells the tale of a group of friends who have been meeting for their regular book club for years when Fonda's character Vivien throws them into a spin by introducing 50 Shades Of Grey and the concept of sex past 60.
I have to admit to being a little cowed to be appearing at the Opera House. That building is iconic.

Jane Fonda
"It is a very funny film and it has been so well received," she says.
"But the really great thing is the wonderful friendships I have made out of it, one of the reasons we all did the film was because we all wanted to get to know each other better."
Fonda stars opposite fellow acting royalty Candice Bergen, Diane Keaton and Mary Steenburgen and despite a heaving awards cabinet between them, it comes as a surprise to find they have never worked professionally together before.
Fonda's whirlwind trip down under includes a red carpet premiere of the film in Bondi on Sunday night and Monday night's appearance at the Sydney Opera House before she heads to Melbourne to speak at The Arts Centre on Tuesday.
She then heads back to the US where she will redouble her efforts as an activist ahead of the November mid-term elections.
"I am scar ed to death of what is happening in the world right now," she said.
"Right-wing tyrants are rising up and the environment is collapsing even more so now that Trump is in power.
"It is really bad what is happening, but it helps to be doing things that could possibly be making a difference. I am talking to people, encouraging them to get out there and vote. It's a scary time."
Book Club is in cinemas now. Tickets are available to her speaking tour on the Sydney Opera House and Arts Centre websites.
License this article
Nathanael Cooper
Nathanael Cooper is Fairfax Media's deputy entertainment editor
Loading
A relationship banned under traditional law.
Our new podcast series from the team behind Phoebe's Fall
View episodes
Source:
Google News Hollywood