Burt Reynolds: Hollywood pays tribute to 'a true American icon'
Burt Reynolds: Hollywood pays tribute to 'a true American icon'
Burt Reynolds Burt Reynolds: Hollywood pays tribute to 'a true American icon'
Sally Field, Dolly Parton, Viola Davis, Mark Wahlberg and Adam Sandler were among the actors to remember the 82-year-old star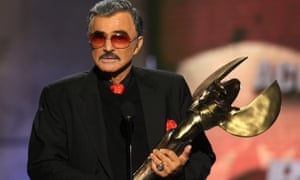 As word of Burt Reynolds' death spread through Hollywood, people from all corners of television and film took a moment to offer warm re membrances of a "legend", "icon" and "trailblazer". The 82-year-old star of Deliverance, The Longest Yard and Boogie Nights, died on Thursday after going into cardiac arrest at his Florida home.
Interviewing Burt Reynolds was a revelation which still shocks me today | Hadley Freeman Read more
Sally Field starred with Reynolds in the 1977 hit Smokey and the Bandit. In a statement, she described him as the "love of my life". The two dated for many years and Reynolds discussed her with similar fondness in interviews.
"My years with Burt never leave my mind," Field said. "He will be in my history and my heart, for as long as I live. Rest, Buddy."
The actor and singer Dolly Parton, who sang with Reynolds in the film The Best Little Whorehouse in Texas, said in a statement: "Oh how sad I am today along with Burt's millions of fans around the world as we mourn one of our favorite leading men. I know we will always remember his funny laugh, that mischievous sparkle in his eyes, and his quirky sense of humor."
Social media was abuzz. "He was my childhood," said Oscar winner Viola Davis. The director Kevin Smith called Reynolds "a true American icon" and lauded him for showing "the fun of movie-making".
Arnold Schwarzenegger called Reynolds one of his heroes: "He was a trailblazer. He showed the way to transition from being an athlete to being the highest-paid actor, and he always inspired me."
In a tribute posted to Instagram, action star Sylvester Stallone said: "He had a great sense of humor and I enjoyed his company so much … RIP".
Mark Wahlberg, who appeared with Reynolds in Boogie Nights, shared a picture of them on the movie's set in a tweet with the caption: "Rest in peace to a legend and a friend."
Adam Sandler, who worked with Reynolds in a 2005 remake of The Longest Yard, tweeted: "Burt Reynolds. True legend. Our hero. Funny as he ll and a for-real badass. So many great movies. So many great stories. Such a great Dad. Will be missed by all. Deepest condolences to his family."
Kristy Swanson, who worked with Reynolds on the 1989 TV series BL Stryker, said: "I can not stop my tears right now. You were one of the greatest guys I ever worked with, u had my back."
The Shield star Michael Chiklis, who also worked on BL Stryker, added: "I owe my career, at least in part, to the great Burt Reynolds. Heartbroken to learn of his passing. He was one of a kind. A fun loving, charismatic talent who did many good deeds quietly, without personal expectation but rather out of the kindness of his extraordinary heart. RIP."
Topics
Share on Facebook
Share on Twitter
Share via Email
Share on LinkedIn
Share on Pinterest
Share on Google+
Share on WhatsApp
Share on Messenger
Source:
Google News Hollywood