Derry Halloween festival 'like a scene from a movie'
Derry Halloween festival 'like a scene from a movie'
Derry Halloween festival 'like a scene from a movie'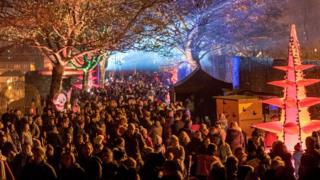 "It's like a big Halloween movie," a child shouted over to her mother on Londonderry's famous walls.
Tens of thousands of people have already descended on the city for what is known as Europe's biggest Halloween gathering.
The Return of the Ancients festival has been extended this year and will have its largest ever budget of almost £400,000.
The city's walls have come alive with skeletons, nuns, witches, fire and music - otherwise known as Awakening the Walls.
Witches launch Derry's Halloween party
Derry Halloween party to run for four extra days
How Derry became a Halloween hotspot
Guildhall Square and Waterloo Place have been transformed into a harvest market and families have been enjoying spooky Halloween music, burgers and pumpkin spiced coffees.
"We have had record numbers along the walls over the past fe w nights," Aeiden McCarter, Derry City and Strabane District Council's head of culture, said.
'Out of this world'
"We have people from all over involved in this festival. The level of creativity is something else.
"We've always believed in Halloween here and to see our ambitions doing so well is amazing.
"Hotels are booked out and that's what we want to see. The big moon inside the Guildhall has been very attractive for people too as well as all the smaller workshops and activities."
The official Halloween parade will see thousands of people line the quay from 19:00 GMT on Wednesday night with the fireworks finale at 20:20 GMT.
What is happening in Strabane and Belfast?
Strabane - Halloween disco with live music, street performers, fire jugglers and a fireworks finale at 20:00 GMT on Wednesday on Melvin Road.
Belfast - The Monster Mash returns to Titanic Slipways on Wednesday night between 18:00 GMT and 20:00 GMT and includes fire shows, amusements and a fireworks display.
Teresa Cairns, a mother of two from Dungiven, told BBC News NI that her children love Halloween more than Chri stmas.
"The colours, sights and sounds are amazing," said Mrs Cairns.
"My Jessica is autistic and she loves films. She thinks this is like a scene from a movie.
"I have to applaud the staff at Derry City and Strabane District Council. This is out of this world. Yes there are a lot of people and it can be tough navigating a pram through this, but you just have to get on with it."
Mayor of Derry City and Strabane District Council, John Boyle, hailed the start of the celebrations as a resounding success.
"The 2018 celebrations started in some style at the weekend," he said.
"It was fantastic to see the people taking in the sights and sounds around the city and district and it's clear why we are considered the best place in the world to celebrate Halloween.
"The nine day programme is the most ambitious ever undertaken by council's festival and events team and features a number of new elements such as the Lumineoles illuminations in St Columb's Cathedral which have been particularly well received so far by the public."
A special radio programme, Samhain Live, will be on BBC Radio Ulster and Foyle from 21:00 BST on Wednesday night.
There will also be an hour long special on BBC Two Northern Ireland and TG4 from 21:30 BST.
Source:
Google News Movie