Edna opry to close doors after 14 years of music
Edna opry to close doors after 14 years of music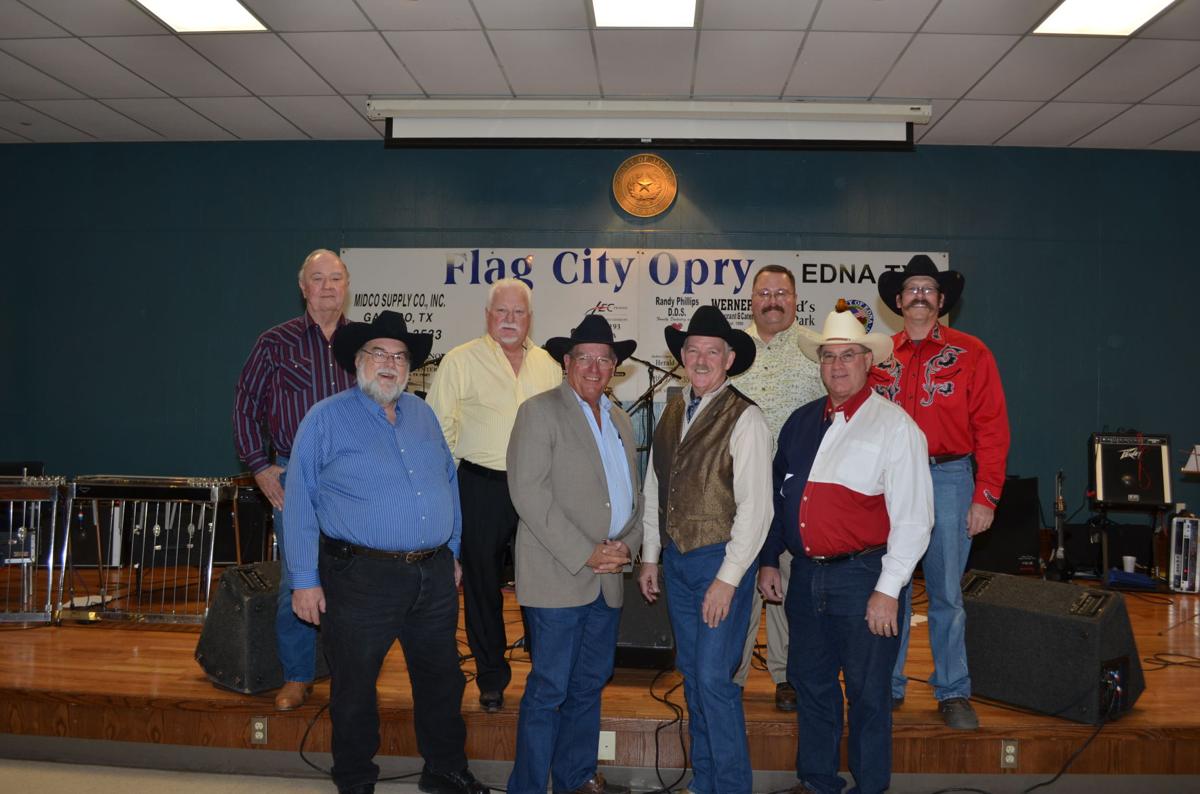 Members of the Flag City Opry house band include, back row, left to right, Charlie Kroll, owner and director; David Waters, lead guitar; Bill Holt, bass; Henry Hosek, fiddle. Front Row, left to right, Buddy Boehm, keyboard; Craig Schmidt, steel guitar; Doug Boggs, drums; Randy Boyd, rhythm guitar.
Lorraine Marshall Chavana
Buy Now
Jim Clark, of Quail Creek, watches a performance of the Flag City Opry in Edna.
Buy Now
Flag City Opry emcee Charlie Kroll watches as the band performs a selection of songs during a performance in Edna. Buy Now
Craig Schmidt plays the steel guitar with the band during a performance of the Fl ag City Opry in Edna.
Buy Now
Guitarist and stage director David Waters, left, plays a s ong with fiddle player Henry Hosek and guitarist Randy Boyd during a performance of the Flag City Opry in Edna.
Buy Now
Special guest artist Billy Mata, of San Antonio, address the crowd during a performance of the Flag City Opry in Edna.
Owner Charlie Kroll, 82, wishes he could see the Flag City Opry last forever.
But because of his increasing age and mounting costs, Kroll said his country music venue will likely offer its last show in December.
"It's kind of like losing a re al good friend," he said.
Since 2004, Flag City Opry, which traces its roots to Inez, has offered monthly concerts to fans of what Kroll referred to as "the old classic music." As popular tastes in the country music genre are increasingly influenced by pop music, opries that specialize in classic sounds like Kroll's are becoming extinct, he said.
"It's a shame we have to shut this show down," Kroll said. "It's the seniors. We are dying off every day."
Bill Lopez, the 86-year-old co-producer of Yoakum's now defunct Country Music USA Show, agreed.
After 34 years of never missing a performance, Lopez and co-producer Jim Witte were forced to close the doors to their venue in 2011 because of dwindling audiences, Lopez said. Country opries and shows throughout Texas have faced s imilar challenges as of late, he said.
At the peak of the Country Music USA Show's popularity, as many as 1,200 people might attend a performance, he said. By the end of the venue's run, they were lucky to see a couple of hundred.
"The younger crowds aren't interested in the opries or the country music shows," Lopez said. "They have too many other things in their lives."
Despite the downturn, Kroll said the venue's run has left him with plenty of happy memories.
Running the Flag City Opry and finding suitable artists to play was both a labor and a joy, Kroll said.
Over the years, he insisted on recruiting artists only after witnessing their act in person. Simply listening to a recording, he said, doesn't offer him a chance to gauge an artist's effect on a real audience.
That self-imposed requirement has meant Kroll once visited as many as 16 opries in order to find the right musicians to bring to Edna.
And a house band ma de up of local artists, including steel guitar, fiddle, keyboards, bass, drums and other instruments, is top-notch, he said.
One player toured with famed artist Johnny Bush for 13 years. Another played the Grand Ole Opry in Nashville at the age of 13.
"You have to have a burning desire," said Kroll, who is willing to pass on the opry's ownership but only to someone who continues or improves its legacy.
With no smoking, drinking or dancing allowed at the opry, the focus is on the music, he said.
The shows also offer an opportunity for Jackson County charities to raise a little money through the sale of cakes, pies and refreshments at the shows.
Running the venue, despite its difficulties, has afforded Kroll an opportunity to be part of the country music scene despite his inability to play an instrument.
Kroll, a lover of classic country music since the age of 6, has immensely appreciated that opportunities offered by the opry.
And so ha ve artists such as Port Lavaca singer Lorraine Marshall Chavana , who is a featured singer for Tuesday's show.
When she sang there in 2014, the Flag City Opry was the first opry Marshall Chavana had performed, she said.
A few years later, her career had taken off with a guest appearance on "The Penny Gilley Show" and numerous awards and recognitions.
But like Kroll, Marshall Chavana lamented the decreasing popularity of classic country music.
"Pop country music today has lost the magic for me," she said.
Marshall Chavana said she is influenced by old-school artists like Anne Murray, Mickey Gilley, Johnny Rodriguez and Crystal Gayle rather than those on the Top 40.
Despite the shifts in popular tastes, Marshall Chavana said she for one still loves that disappearing, old-time style offered at the Flag City Opry.
"You are taken back in time to that music that puts a smile on your face and song in your heart," she said.
Jon Wilcox
Jon covers crime, public safety and the courts at the Victoria Advocate. Born in Huntsville, Ala., he grew up in Atlanta, Ga. and obtained a bachelor's degree in journalism at Texas State University.
Follow Jon Wilcox Your notification has been saved. There was a problem saving your notification.
Whenever Jon Wilcox posts new content, you'll get an email delivered to your inbox with a link.
Email notifications are only sent once a day, and only if there are new matching items.
Follow Jon Wilcox
Don't have an account?
Sign Up TodaySource:
Google News Music