Empress of: Us review – joyful, lighter-than-air pop
Empress of: Us review â€" joyful, lighter-than-air pop
Music Empress of: Us review â€" joyful, lighter-than-air pop 4 / 5 stars 4 out of 5 stars.
XL/Terrible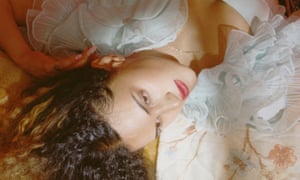 Singer-producer Lorely Rodriguez made a splash with 2015's Me, an album of quirky, minimal, deconstructed anthems about idealism, loneliness and empowerment. Three years on, she's relocated from Brooklyn to her native Los Angeles, but the big change in the follow-up is in the title. In what can seem dehumanising times, Us reaffirms the values of community, human ity, love and personal connection. Opener Everything to Me captures the wonderment of friendship (with Blood Orange's Dev Hynes, who guests here) with vivid imagery: "I'd rather be sitting next to you, drinking beer out of the bag, watching cars and yellow cabs." The slightly reggae lilting Just the Same is playfully sexual â€" "I want you on top of me like a paperweight" â€" and she's comfortable enough in her own relationships to josh about "giving you a hard time â€" is that OK?"
The blue-eyed effervescence of many of the lyrics is given the perfect backdrop by the music: minimal but laden with keyboard stabs, dizzying glockenspiel hooks and a playful pop sensibility that places her somewhere between FKA twigs and early Madonna. Timberlands finds her rhyming "irreverent" with "elephant". There are darker moments. I Don't Even Smoke Weed addresses anxiety. I've Got Love was written for a suicidal friend and the vulnerable, partly-Spanish-sung T rust Me Baby finds the Honduran-descended singer pleading, "All I've done is love you endlessly." However, nothing ever disturbs the giddy, uplifting atmosphere of songs that are as euphoric as they are charming.
Topics
Share on Facebook
Share on Twitter
Share via Email
Share on LinkedIn
Share on Pinterest
Share on Google+
Share on WhatsApp
Share on Messenger
Source:
Google News Music