Fire at Hollywood Flanigan's believed to have started in kitchen
Fire at Hollywood Flanigan's believed to have started in kitchen
High school coach accused of soliciting sex from young boy online
Coral Springs
9-year-old accused of confronting alleged bullies with gun at Lauderhill school
Broward
Vigil honors young father killed in drive-by shooting
Miami-Dade
Woman claims she was racially profiled at South Florida H&M store
Broward
Miami man drugged, robbed by women he met at nightclub, police say
Miami
Miami-Dade and Broward officials testing for red tide
Miami-Dade
Victim's teen daughter, boyfriend arrested after body found in home
Crime
Local 10 Forecast October 2 Evening
Local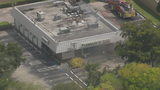 Fire at Hollywood Flanigan's believed to have started in kitchen
Hollywood
HOLLYWOOD, Fla. - A stretch of University Drive was closed Tuesday afternoon in Hollywood after a fire started at the Flanigan's restaurant.
Flames could be seen shooting through the roof of the restaurant on University Drive and Sheridan Street.
More Hollywood Headlines
3 hurt after SUV slams into Hollywood home, burst into flames Innocent bystander struck by bullet during shootout in Hollywood, police say Man caught on camera lurking outside young girl's bedroom
"I noticed flames coming from the roof and proceeded to call the Fire Department," witness Richard Solomon said. "And the flames continued to get larger and smok e was everywhere. You couldn't see 2 feet in front of you."
The fire likely started in the kitchen.
Hollywood Fire Rescue crews responded to the business and extinguished the flames.
Northbound and southbound lanes near the restaurant were closed immediately after the fire, but have since reopened.
An employee told Local 10 News reporter Janine Stanwood that no one was injured, but it's unclear when the restaurant will be able to reopen.
Copyright 2018 by WPLG Local10.com - All rights reserved.
Get email alerts for local stories and events around the world.
Sign Up '); } else { $("#outbrain-placeholder").replaceWith( '' + '' ); }Source:
Google News Hollywood