Movie hopes for Scotland's book town
Movie hopes for Scotland's book town
Movie hopes for Scotland's book town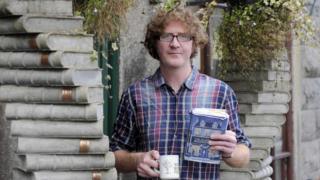 A Hollywood film company has bought options on two books by Wigtown-based authors with the idea of using them to create a movie.
It would combine Shaun Bythell's Diary of a Bookseller and Jessica Fox's Three Things You Need to Know About Rockets.
Together they paint a picture of "life and love in a small town" in the south west of Scotland.
The news was revea led at the conclusion of the 20th Wigtown Book Festival - described as "the most successful yet".
Diary of a Bookseller was launched at the festival a year ago and has now been translated into 18 languages.
Mr Bythell said he had been taken aback by the reaction to it.
"I was astonished that people were interested enough in the life of a second-hand bookseller from Wigtown to buy my book - so you can imagine my surprise when I was approached by a Hollywood film company," he said.
The book festival came to a close on Sunday with provisional figures showing a 20% increase of audiences compared with last year.
Artistic director Adrian Turpin said: "We've been overwhelmed - this year's festival has been a huge success, the biggest yet.
"The level of support, enthusiasm and enjoyment has been just incredible.
"At one point on Saturday afternoon there were 735 people attending festival events - in a town with a total population of under 1,000."
"And with Hollywood buying options on two books by locally-based authors which put a major focus on the town, its bookshops an d all the people who live here or visit, we could even be looking forward to Wigtown the Movie."
Dumfries and Galloway Council's events champion Adam Wilson said the town had once again played host to a "wonderful books festival".
VisitScotland's Paul Bush said it was "fantastic" to see the popularity of the event continue to grow.
Source:
Google News Movie