Richard Gill, world-renowned conductor and music educator, dies age 76
Richard Gill, world-renowned conductor and music educator, dies age 76
Music Richard Gill, world-renowned conductor and music educator, dies age 76
Tributes flow for 'brilliant teacher' and passionate music advocate who died from cancer in Sydney on Sunday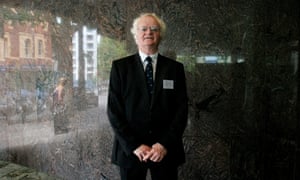 Internationally renowned conductor and music educator Richard Gill died at his home in Sydney on Sunday, age 76. He had been receiving care for colorectal and peritoneal cancer.
On Saturday, more than 70 musicians gathered outside of his home with their instruments and music stands, and played one of his favourite pieces, The Dam Busters March.
Gill was passionate about music education, particularly in public schools. He specialised in opera, musical theatre and choral training and appeared on television shows like Spicks and Specks and Q&A to bring these styles to wider audiences.
He was the founder and first artistic director of Victorian Opera, and created the National Music Teacher Mentoring Program, a scheme funded by the government and designed to increase access to quality music education for all Australian primary school students. He was also director of the Sydney Chamber Choir, head of the Australian Romantic & Classical Orchestra, and was associated with the Melbourne Symphony Orchestra, the Auckland Philharmonia Orches tra, and the Australian National Academy of Music.
In 1994 Gill received an Order of Australia Medal, and in August he was awarded the Arts Leadership Award at a ceremony held by Creative Partnerships Australia at the Art Gallery of NSW. His final public performance was in July, when he led the Sydney Flash Mob Choir through The Beatles' When I'm Sixty-Four at the City Recital Hall in Sydney.
In a tribute posted to Facebook, the Australian Romantic & Classical Orchestra wrote that Gill "spent a life systematically addressing the widespread shortcomings and neglect of music in Australia's education system".
"He was convinced of the positive effects of music on young people," the post said.
"Like the fading of a beautiful sustained note, or that magical silence following a fabulous performance, a loss as significant as Richard Gill cannot be adequately explained or understood."
Topics
Choral music
Classical music
news
Share on Facebook
Share on Twitter
Share via Email
Share on LinkedIn
Share on Pinterest
Share on Google+
Share on WhatsApp
Share on Messenger
Source:
Google News Music