Salman Khan's cameo in KKHH, Kajol is the killer in Gupt - Check out Hindi films' best kept secrets
Salman Khan's cameo in KKHH, Kajol is the killer in Gupt - Check out Hindi films' best kept secrets Last year when Salman Khan's Tubelight released it had a cameo by Shah Rukh Khan, who played a magician in the film. Even though the movie was a dud, it was a delight for the fans to see the two superstars sharing screen space after a long time. In my opinion, what would've made this scene greater than it already was if the makers had tried to keep it a secret and not promote the movie on the fact that Shah Rukh is also in it.
Similarly, we already aware of the fact that Shah Rukh Khan's next Zero will have a cameo by Salman Khan, Kajol, Sridevi, Rani Mukerji, Alia Bhatt, Karisma Kapoor, Kareena Kapoor Khan, Abhay Deol and R Madhavan. Back in 2012 when Aamir K han's Talaash: The Answer Lies Within had released, even before the release, the main twist of the film was out on the internet that Kareena Kapoor is playing a ghost.
All this kept me thinking what happened to the time when there used to be a surprise factor in films. If there was a cameo or a special appearance by a certain actor or actress, makers used to believe in keeping it a secret. I know in the age of social media and the internet, it is difficult to keep anything a secret but filmmakers can at least try!
So, here is a list of some of the Bollywood film's best-kept secrets that caught the movie buff in us by surprise and gave us an experience which is hard to relive in today's day and age.
Salman Khan's special appearance in Kuch Kuch Hota Hai
Those who have watched this movie in a theatre b ack in 1998 know the rush everyone got when this song came on-screen. The theatre erupted, a loud roar was heard because almost everyone was unaware of the presence of Salman Khan in the film. This entry sequence has to be one of the most iconic scenes in the history of Bollywood. Imagine if the movie had released in today's time, we would've already been aware of Salman's special appearance in the film. No fun in that. Also read: It was Salman Khan's entry in the song Saajanji Ghar Aaye that made Varun Dhawan want to be a star -here's why
Kajol is the serial killer in Gupt
If Hollywood has The Sixth Sense, Hindi film industry has Gupt. The revelation of Kajol being the killer is India's "I see dead people". An A-list lead actress being the killer was an alien concept for Hindi films back in the day. So when we all realised that Kajol is the killer, while we all were focusing on other male actors, it was a shocking twist and one of the best ever. Since it's release, Gupt has become a pop culture cult classic which often finds a reference in movies. If released in today's time, it would've been on the internet on its release day that Kajol is the killer.
Thakur Baldev Singh has no arms in Sholay
The first time when it is revealed that Thakur Baldev Singh (Sanjeev Kumar) has lost both of his arms was in the middle of the movie. Now imagine the scenario back in 1975 when an unaware audience was caught by surprise when it was revealed right after Veeru confronts him. It's hard to imagine now but come to think of it, up until that time Thakur was either seen wrapped in a shawl or in a flashback scene when he had both the arms intact.
Shah Rukh Khan and Tabu in Saathiya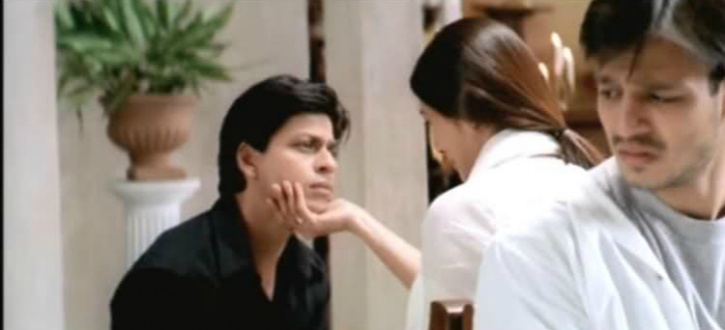 This sweet little film had hit music, amazing performances by Vivek Oberoi and Rani Mukerji, engaging narrative and surprising cameos by Shah Rukh Khan and Tabu. Just like Salman's special appearance in Kuch Kuch Hota Hai, this was a big surprise for everyone while watching the movie at the time of its release.
Aishwarya Raiis on Ajay Devgn's side in Khakee
This has to be one of the most heartbreaking scenes in the history of Hindi films. Damn! Watching it still gave me chills and everyone in my theatre had their jaws dropped o n the floor. The shock value of this scene is quite high. Who would've thought that the funny, cute and flirtatious banter between Aishwarya and Akshay will take a deadly turn?
Honourable mentions
Urmila Matondkar is the psycho killer in Kaun?
Sanjay Dutt's special appearance in Raju Chacha
Shah Rukh Khan throws Shilpa Shetty off the terrace in Baazigar
There are many more such scenes/scenarios/cameos in Hindi films. But sadly, almost all of them are from the films which released before the age of social media. In today's day and age, it is difficult to keep a plot twist or a star cameo in a film a secret.
Sigh! Those were the days.
NEXT STORY Salman Khan's cameo in KKHH, Kajol is the killer in Gupt - Check out Hindi films' best kept secrets
Description:
When Kuch Kuch H ota Hai released 20 years ago, most were unaware of Salman's presence in it. The revelation of Kajol being the killer in Gupt shocked everyone. Let's take a look at Bollywood's best-kept secrets

Loading...

Loading...

Loading...Source:
Google News Hollywood