Strictly dance couple face the music in first show after that kiss
Strictly dance couple face the music in first show after that kiss
The Observer Strictly Come Dancing Strictly dance couple face the music in first show after that kiss
Seann Walsh and Katya Jones return to show after accusations fly online and in print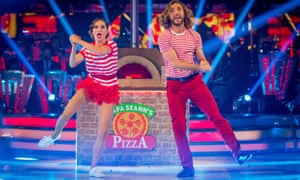 If there was tension oozing out of the dance routine performed by Seann Walsh and Katya Jones on this week's Strictly Come Dancing, then it probably wasn't of the sexual kind â€" any more. Performing a pizzeria-themed Charleston (rumoured to have been hurrie dly changed from the planned raunchier rumba), the couple almost palpably crackled with nerves, perhaps over-compensating with the fizz and sparkle, while dancing significantly less well than they did with the previous week's paso doble. Though perhaps this was understandable.
Before last week, Walsh, 32, was known for comedy, while Jones, 29, a professional dancer and choreographer, was partnered with Ed Balls in 2016, and won last year's Strictly with Joe McFadden. All this changed when Walsh and Jones were photographed kissing outside a pub. Jones is married (to the dancer, Neil Jones, who also works on Strictly), while Walsh was in a five-year relationship with the actor, Rebecca Humphries. "Was" being the operative word. While Walsh and Jones publicly apologised, Walsh didn't apologise directly to Humphries, who ended their relationship in a now-infamous tweet. This relayed how she was left alone on her birthday on the night of the kiss, and t hat when she'd told Walsh she had suspicions, he "aggressively and repeatedly, called me psycho/nuts/mental, as he had done countless of times when I've questioned his inappropriate and hurtful behaviour". Humphries went on to implore women to "trust your instincts. It's more than lying. Its controlling".
Obviously, no outsider knows the truth about Walsh and Humphries' relationship. On the Strictly companion show, It Takes Two, Walsh said that their relationship wasn't perfect, and "the people that know me most, that love me, they know that I'm not the person I'm being portrayed as". However, while the nation took sides, some calling for the couple to be axed from the show, what became interesting was how the narrative kept getting dragged back to the kiss. The issue turned into whether â€" or not â€" some people were overreacting to a cheeky drunken snog? (Strictly judge, Craig Revel Horwood jokingly said that Walsh and J ones should be made to do "The dance of shame".)There was also a lot of talk about the so-called "Strictly curse".
However, while the kiss/"Strictly curse" would always have got some mileage, the game-changer here was Humphries' tweet, which was about matters beyond the Strictly bubble, casting an unexpected grim shadow among the sequins and spangles. Suddenly, it wasn't just about stupidity, drunkenness, or the heady intimacy of dance training. This was a description of behaviour that suggested "gaslighting" â€" where someone has their view of reality distorted by a manipulative partner, and is made to feel hysterical, irrational, or indeed "psycho". Forget the "Strictly curse"; Humphries' tweet was a Strictly image problem for the family light entertainment show (there were reports that domestic violence charities expressed concerns).
Perhaps this explains the determined and occasionally somew hat brittle "Show must go on!" atmosphere on this week's edition of Strictly, where Walsh and Jones finished fifth on the leader board, with their fate undecided until the results show. While the hosts, Tess Daly and Claudia Winkleman made a couple of guarded references to the situation ("It's been quite a week!"), the main impression this viewer was left with was "brand-protection", not just for Walsh and Jones, but for the Strictly juggernaut itself. No one wishes to spark a witch-hunt against Walsh.
However, it has to be disappointing a year on from #MeToo when a woman talking about an experience seems to be almost nationally "closed down", or at least brushed over, and the supposed "prurience" of the public becomes the bigger story. Whatever the truth of this week's events, let's not pretend that this was ever really about people getting their knickers in a righteous po-faced twist about a cheeky drunken kiss.
Topics
Strictly Come Dancing
The Observer
Television
Entertainment TV
news
Share on Facebook
Share on Twitter
Share via Email
Share on LinkedIn
Share on Pinterest
Share on Google+
Share on WhatsApp
Share on Messenger
Source: Google News Music