Utøya: July 22 – Is it right to make movies out of real-life acts of terrorism?
Utøya: July 22 â€" Is it right to make movies out of real-life acts of terrorism?
Steve Rose on film Movies Utøya: July 22 â€" Is it right to make movies out of real-life acts of terrorism?
Two recent films portray events surrounding the horrific 2011 massacre in Norway. But do they really honour the victims?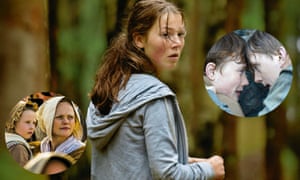 Amid this season's Halloween horror movies, it is alarming to find Utøya: July 22, a Norwegian-made account of the 2011 massacre in which Anders Breivik killed 77 young people and injured many more. The film picks out one of those young people, Kaja , and follows her through its 72 minutes in one frantic, unbroken take. Kaja â€" who keeps her head and thinks of others â€" would make a decent slasher-movie heroine. There is one unbearably tense moment when she cowers in a tent listening to the killer stalking outside that brings to mind The Blair Witch Project. There's also an ill-judged "twist".
Utøya: July 22 is not supposed to be read as a horror movie: the film is based on true survivors' accounts. The real-time format and handheld cameras give it a war-reportage urgency, but it is not really a docudrama, either: we're as confused as Kaja about what's going on and why. This is so often the problem when cinema tries to portray terrorist attacks and massacres. You want to honour the victims, but you also want to provide a thrilling night at the movies. Maybe there is no way of squaring that circle.
Paul Greengrass has also just made a film about Utøya; you could say he falls into a similar trap. His film, 22 July, recreates Breivik's grim operation with thriller-like slickness, then gives us the aftermath, switching between Breivik's trial and the plight of a real-life survivor named Viljar Hanssen, and contrasting the inhumanity of the perpetrator with the decency of the Norwegian justice system. While Hanssen undergoes brain surgery for his injuries, Breivik demands a plaster for a cut on his finger, caused by a bone fragment from one of the teenagers he has just shot.
Greengrass is now an old hand at this kind of hybrid docu-thriller. A veteran of ITV's World in Action, he broke through with 2002's Bloody Sunday, a bracing, vérité-style account of the 1972 Northern Ireland killings, and expanded on the formula with United 93, which put us on the fourth plane h ijacked on 9/11. You could argue the approach worked better with his Bourne movies.
Peterloo review â€" force, grit and brilliance Read more
Many others have followed, such as Oliver Stone's 9/11 movie World Trade Center, or Patriots Day about the Boston marathon bombing. The latter event inspired Stronger, with Jake Gyllenhaal playing a real-life survivor. Now, Mike Leigh has taken on the 1819 Peterloo massacre. Leigh focuses on the politics and the people rather than the drama, which makes his film a piece of historical research, but also a bit of a slog.
The problem with most of these movies is their need to find heroes. You can't have a story without one. We root for Kaja's survival in Utøya: July 22, and for Hanssen's in 22 July â€" but any victory feels pyrrhic in an episode where evil ultimately triumphed over good.
Utøya: July 22 is in UK cinemas from Friday 26 October
Topics
Movies
Steve Ro se on film
Share on Facebook
Share on Twitter
Share via Email
Share on LinkedIn
Share on Pinterest
Share on Google+
Share on WhatsApp
Share on Messenger
Source:
Google News Movie